Are Purebred Show Dogs Unhealthy?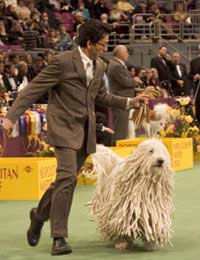 Since August 2008 when the controversial documentary Pedigree Dogs Exposed was aired on BBC television there has been a public and media backlash against the 'show breeder.'
Types of Breeder
Let's get something straight here, there is no such thing as a show breeder. This is a name given by the media and the uneducated. Some people seem to think that dogs are bred and every puppy in the litter goes on to become a dog that is purely used for exhibition purposes. Not only is it laughable, it is untrue. Those who sensibly breed a litter are lucky if one or two from the litter go into the show ring.
What is a Show Dog?
A show dog is a dog that is of good conformation, is typical of the breed in that it is as near the breed standard as possible. If at the age of six months the puppy is healthy and fit for purpose it will be entered into puppy classes at a show. The people who show dogs are mainly just like you and me in that we have a nice dog at home and want to have a hobby with it. Some go to agility, some obedience or perhaps heelwork to music and others go into the show ring. Apart from a weekly trip to a local show where the dog is in the ring for about ten minutes it is no different to any other pet who lives a long and happy life with its owners.
Breed Standard
A breed standard is the blueprint for each breed of dog that dictates what the breed should look and perform like. This also includes health as well as conformation and is updated by the Kennel Club, sometimes on the advice of breed clubs, to include health screening information and changes that will be of benefit to the dogs of that breed.
How Many Breeds are Unhealthy?
There are well over 275 breeds registered with the Kennel Club and of that number only a few are deemed not to be as healthy as they can be. The Kennel Club and breed clubs for each breed are working to ensure that the dogs in these breeds are all health screened before mating and that any problems within the breeds are being rectified. This has always been the case and this work has only come to light due to adverse publicity.
Are there Bad Breeders?
Yes, in all walks of life there are bad people who care only for money and dog breeding is no exception. But within the dog show world the majority of people care for their breeds and work with breed clubs, The Kennel Club and health organisations to ensure that puppies have the best start in life. Breeders also make sure that dogs they breed go to good homes and are looked after all their lives.You need to look elsewhere for a bad breeder.
Puppy Farmers and Back Yard breeders
These are the people who breed for profit and make no provision for health screening or the good of the dogs they own. Similarly pet breeders who simply mate their bitch with a local dog are doing the breed or the individual dogs no good whatsoever. These types of dogs are often sold on online websites, in free ads or even on postcards in newsagent's windows. Avoid these puppies at any cost. The puppies may be very cute, you may think you are rescuing them by purchasing the puppy but all you are doing is lining the pockets of these bad breeders and encouraging them to continue this terrible trade.
Buy From the Best Place
If you want to buy a puppy go directly to the breeder where you will see the mother. If the father is not present the breeder will be able to give you details of the sire which includes copies of his health screening tests. These breeders can be found by contacting the Kennel Club's Accredited Breeder Scheme. You can also contact breed clubs for recommendations of good breeders. If you wish to adopt an older dog breed clubs can put you in touch with breed rescue organisations that can match a family with the ideal dog.
You might also like...