Hip Dysplasia and Hip Scoring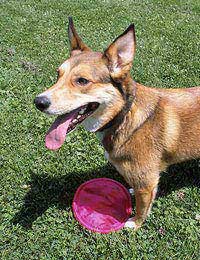 Hip Dysplasia is one of the most common genetic diseases affecting dogs and also one of the most feared, as it causes gradual debilitation and severe pain and suffering. Also known as degenerative joint disease, arthrosis and osteoarthrosis, it affects the hip joints and can affect dogs as young as 6 months of age, although in many cases, symptoms don't start developing until the dog has matured.
Causes of Hip Dysplasia
Basically, hip dysplasia is due to an abnormal formation of the hip socket and this abnormality seems to come about due to several factors, the key one of which is hereditary. That is, a dog that does not posses the genetic trait for hip dysplasia will not develop this condition. The disease results from a combination of genetic tendency and environmental factors in the dog's life which cause the onset of the disease. These factors include obesity, high protein diets, high calorie diets and diets with excessive calcium, particularly in the puppy foods for large breeds.
Symptoms of Hip Dysplasia
There is no given time frame in which a dog diagnosed with hip dysplasia will begin to show signs of pain and lameness. However, any conscientious dog owner should always be aware of the signs and be on the lookout for them. They include:
Trouble getting up from sleeping/lying down
Trouble going up and down stairs
Reluctance to exercise
Reluctance to jump or stand on hind legs
Signs of soreness after heavy exercise
Popping or snapping sounds when the dog is walking
Dog being sensitive to touching their hindquarters
Strange or abnormal stance, such as learning to one side, leaning forward or even a strange gait when walking or running, such as "bunny-hopping".
If any of these signs are noticed, the dog should be taken to the vet immediately for an examination and possibly a second opinion from a surgical specialist. Unfortunately, this is not a condition that will improve of its own accord – instead, things will worsen until even everyday activities become painful for the dog and he/she will not be able to walk within a few years, if medical intervention is not sought.
Diagnosis
The only way to diagnose hip dysplasia correctly is to perform a complete physical and neurological examination, an assessment of the dog's breed, age, history, followed by an x-ray of the hips – as there are many other diseases can present with similar symptoms. Hip Dysplasia may also be diagnosed using computed tomography (CT scan), and ultrasonography but these methods are less common.
Treatment for Hip Dysplasia
It is important to discuss each dog's individual prognoses and treatment with the vet. For dogs in the early stages of the disease, treatment might be simply restricting the amount of exercise while those with more severe conditions may require daily anti-inflammatory medication or even surgery, such as hip replacement or femoral head osteotomy, where the head and neck of the femur is removed and the fibrous scar tissue allowed to form a "false joint".
With proper treatment, many dogs can lead relatively normal lives. Regardless of the treatment plan, all dogs diagnosed with hip dysplasia should be kept lean, as excessive weight aggravates the disease. Dogs should also be kept fit as this will help to maintain muscle tone (which helps to support the dog's weight) and also keep the joints moving more fluidly. Swimming is often an ideal choice for dogs with hip dysplasia. Other things you can do to help include providing a warm environment and padded bedding. Do not leave your dog outside in harsh, cold conditions.
Prevention
There is no guaranteed way of preventing hip dysplasia. However, only buying a puppy from parents whose hips have been tested can significantly reduce the chances of developing the disease. The British Veterinary Association, in conjunction with the Kennel Club, has established a testing scheme where dogs' hips could be assessed through radiographs and then given a score from 0 (best) to 106 (worst). Each breed has a mean score, indicating the breed's predisposition towards hip dysplasia. For example, German Shepherds have a mean score of 19 whilst the Clumber Spaniel has a mean score of 40.
Any dog in a breed which has a hip score beneath its breed mean has a better chance of not developing hip dysplasia or passing the genetic condition onto their pups. Breeders are advised to only breed from dogs and bitches whose hip scores are well below the mean. Reputable breeders will hip score their dogs (do not believe those that say they can tell their dogs have good hips "just by looking") and will offer certification.
In addition to hip scoring, nutrition and exercise play the biggest part in preventing the disease. Puppies that are fat and grow too fast (from eating a high calorie diet) are more at risk, as well as puppies that are over exercised – a common mistake by new owners. It is best to limit exercise, especially on hard surfaces, at least until about 6 months of age and to avoid any forced running for long distances, as well as any games which involve a lot of jumping or rough play. Again, swimming is a great choice as it allows exercise without putting any stress on the joints.
Although the Orthopaedic Foundation for Animals and responsible dog breeders have made great efforts over the years, it has unfortunately been impossible to eradicate hip dysplasia, especially in certain breeds that are particularly prone to this disease, such as Labradors. However all dog owners can help the situation by continuing to support breeders who hip-score their dogs and following sensible puppy care.
You might also like...