Congenital Deafness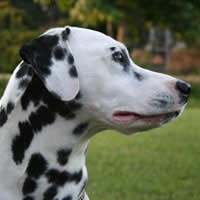 Congenital deafness is inherited through defective genes from a dog's parents and generally affects the purebred dog population, with over 40 breeds suffering from this condition. The defective genes cause the blood supply to the inner hair cells of the cochlea to die, leading to the degeneration of sensory inner ear structures a few weeks after birth.
The condition seems to be linked to coat and eye colour, within particular breeds – thus dogs that are white or have coat patterns of black, grey and white – and blue eyes, are more likely to pass on and inherit the gene for deafness (eg. Dalmations, Bull Terriers and Australian Cattle Dogs). However, deafness can occur in any breeds and even in mix-breeds.
How Do I Know if My Dog is Deaf?
Deafness can be unilateral (only in one ear) or bilateral (deaf in both ears). The former can be very hard to detect and even the latter can go undetected for some time, as dogs are very adaptable and quick to use their other senses to compensate.
Some owners may notice their dogs' lack of response to loud noises and being difficult to wake up. Many deaf dogs may seem "aloof" and difficult to train, particularly during the recall. DIY tests for deafness include startling the dog with a loud noise (eg. clapping hands) or producing a strange noise to investigate but these can be very unreliable as the dog may be simply responding to environmental cues, copying their siblings or other pets in the family or even responding to the vibrations.
The only reliable method of detection is the BAER test (Brainstem Auditory Evoked Response) test, which measures and records hearing loss by recording electrical activity in the inner ear and auditory pathways in the brain. The test is painless and can be performed on puppies as young as 5 weeks without the use of anaesthetic, although older dogs may need to be sedated.
Living with a Deaf Dog
It is important that you make extra effort to keep your dog safe if it is deaf, as it cannot be warned by noises to protect itself. Make sure that your backyard is securely fenced and escape-proof and that your dog is always kept on leash when outside your home. Learn to communicate and train your dog using hand signals and ask for all others who interact with your dog to be consistent. Be especially careful around children and other strange dogs, as deaf dogs are easily startled and may react in fright. While deaf dogs can make good pets, it is important to spay/neuter them so that they cannot inadvertently pass on their deaf genes.
Controlling the Problem
As with all hereditary conditions, it is down to responsible breeding. Research shows that even if one parents is only unilaterally deaf, the chances of the puppies being either unilaterally or bilaterally deaf are almost doubled so it is crucial that breeders, particularly of vulnerable breeds and coat colours, have their breeding stocks assessed before using them in their breeding programmes. Only through continuous and dedicated testing by responsible breeders can we hope to reduce the incidence of deafness in the general canine population.
Dog Breeds with Reported Incidence of Congenital Deafness Include:
Akita, Great Dane, American Staffordshire Terrier, Great Pyrenees, Australian Cattle Dog, Ibizan Hound, Australian Heeler, Kuvasz, Beagle, Maltese, Border Collie, Miniature Poodle, Boston Terrier, Bulldog, Bull Terrier, Old English Sheepdog, Papillon, Cocker Spaniel, Pointer, Collie, Rhodesian Ridgeback, Dalmatian, Rottweiler, Dappled Dachshund, Scottish Terrier, Doberman Pinscher, Sealyham Terrier, Dogo Argentino, Shetland Sheepdog, English Bulldog, English Setter, Foxhound, West Highland White Terrier, Fox Terrier.
You might also like...