DNA Screening Use in Dog Breeding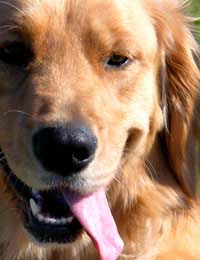 With the successful mapping of the canine genome, DNA screening tests are now starting to help breeders eliminate certain diseases which can be linked to individual genes. By submitting a blood sample, owners and breeders are able to find out if their dog carries a defective gene, even if they do not express the symptoms of the disease, and thus avoid using this dog in a breeding programme. This is particularly helpful with diseases where the dogs may not exhibit symptoms until later in life and the disease may not be easily detected through normal health screening tests.
Here are some of the DNA testing schemes currently available – reputable breeders from the breeds affected should test all their breeding stock and only use those which have been proven to be clear of the defective gene:
Canine Leucocyte Adhesion Deficiency (CLAD)
CLAD is a immune-deficiency disease prevalent in Irish and Irish Red & White Setters where the white blood cells are unable to fight infection. The gene is recessive, therefore a puppy which only inherits one gene from one parent may not show symptoms but may be a carrier, passing on the deadly disease to the next generation.
A puppy which inherits both sets of genes will suffer severe multiple infections and die young – a horrible fate for any animal. However, if only clear animals are used for breeding or if carriers are only mated to a CLAD clear bitch or dog, then the disease will gradually be eliminated from the gene pool. Now that the DNA test is available, this should be easily done – provided that breeders are ethical and responsible and participate in the DNA screening. From June 2008, the Kennel Clubs will refuse registration to any pup unless both parents are clear of CLAD and will also refuse to register any carriers.
Copper Toxicosis
A disease which affects Bedlington Terriers, copper toxicosis occurs as a result of excess copper being stored in the liver, leading to poisoning, severe illness and even death. The only previous test for this disease was a painful liver biopsy to assess the levels of copper present so the new DNA screening test – although not 100% accurate – is a preferable alternative, as it is non-invasive and gives breeders a chance to minimise the disease in their breeding lines. About 50% of Bedlington Terriers carry the defective gene so it would not be advisable to remove all the carriers from the breeding pool as this would limit the genetic material too much, losing many beneficial genes along with the carriers and possibly lead to other problems. Instead, it is advised that carriers are only mated to clear dogs, so that no offspring will be clinically affected, even if they are carriers. Meanwhile, other beneficial genes in the gene pool will not be lost from the breed. Bedlington Terrier clubs are now notified of all test results from the DNA screenings.
Cystinuria
Cystinuria is a genetic kidney defect which is found in Newfoundlands. It occurs when an amino acid called cystine is not re-absorbed correctly by the kidneys, thus causing the formation of kidney and bladder stones. These in turn can cause kidney failure, a ruptured bladder and even death if not dealt with promptly. The DNA screening test now available provided information about the genetic status of the breeding stock so that breeders can know which of their dogs are carriers of this deadly defect. Thus, they can ensure that carrier dogs are only bred to non-carriers, so that no offspring produced are affected – while all affected dogs are removed from the breeding programmes.
You might also like...