When to Start Training to Show?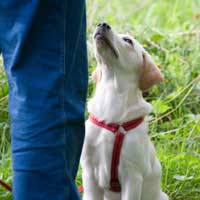 No one wants to be the person in the show ring with an uncontrollable dog. We've all seen the one that refuses to let a judge 'go over' him and will not move in a straight line, but instead imitates a windmill – all four legs flying in different directions as the owner's blood pressure reaches uncontrollable heights!
If you have never shown a dog before it would be advisable to attend a few dog shows and get to know the breed and how it is presented in the show ring. You cannot expect to turn up on the day and win your class without knowing what to do while in the ring – even more importantly you cannot expect your dog to understand what is expected of him. Hopefully you would have purchased your future champion from a breeder who will guide you through your first attempts – if not you need to study your breed while it is being shown and ask questions!
Day One of Training
Show training starts the moment you bring home your puppy. Your breeder should have introduced the puppy to the outside world already. He should be familiar with household sights and sounds and have ventured into the garden to explore. Until he has had his full set of inoculations he will not be permitted to mix with other dogs but until then there is a lot you can do to let him become used to being handled.
Stand the puppy squarely keeping a hand under his tummy and the other under the chin. Praise him when he does it correctly but try not to praise with food rewards – a happy voice is praise enough. Dogs will spend a lot of time standing still and being looked at by the judge, if you start when the puppy is only weeks old you will be making his show career so much easier.
Going Over a Dog
A term you will quickly learn in the show world is 'going over,' this is when someone (normally a judge) will feel every part of the dog from the nose to the tip of the tail. They know the standard of your breed and are using their hands to ensure that your youngster conforms as much as possible to the ideal blueprint of that breed. So, while you are training your young puppy to stand correctly ask friends and family to 'go over' him so that he is used to this close examination.
Learning How to Move Well
A properly constructed dog is a dream to watch when it moves around the ring. When you have your three minutes with the judge this is the time your exhibit should shine. The judge will have eyes for only your dog, make the most of it. If your dog can move well and on a loose lead it will not only present your dog well but will also show you are a good handler. So, start to train your puppy how to move then stop and stand as soon a he will wear his lead.
Teeth, Feet, Eyes, Ears and Testicles
These points are very important, as they will be checked by the judge for correctness and cleanliness. All male dogs must have two testicles fully descended and the judge will also check for this – get your puppy used to this from day one.
Collar and Lead
Apart from the collar and lead that your puppy will wear every day he will also need a special show lead. These are lightweight versions of the normal lead but designed to show off the dog without obscuring parts of the dog. Make sure your puppy is used to the feel of this lead and use this when training him.
Grooming and Presentation
Many breeds have their coats presented in a specific way whilst in the show ring. This is done to enhance the outline of the dog. In some cases an expert groomer can disguise faults that can fool a not so observant judge. When showing a coated breed it is expected that the handler will carry a brush in the ring to continue presenting the coat to perfection at all times. Remember this when training your dog so that he is not surprised (or worried) when you start to brush his coat.
Please do not restrict your puppy's fun time. However, he must learn that he cannot play with every dog he meets – it could cause bedlam in the ring.
These may seem rather a lot of points to remember when all you want to do is play with the new edition to the family, but remember that five minutes in the show ring needs months if not years of preparation beforehand.
You might also like...
Please can any tell me where I can find a ring craft class near Beverly East Yorkshire also does anyone know of any local shows to show my retriever pup please
Kazza
- 27-Apr-23 @ 10:18 AM
RING CRAFT CLASSES IN THE NORTHWEST
missylongnose
- 31-Jan-23 @ 1:49 PM
Does anybody know of ring craft lesson in Ringwood or Wimborne area. Many thanks.
Kate
- 25-May-22 @ 12:50 PM
Live in Richmond, Surrey and looking for Ringcraft near me for my 3 month old whippet.Wanting this for fun only forboth of us.
Val
- 24-Oct-19 @ 11:29 AM
Anyone know of a ringcraft class near Eyemouth in Scottish Borders.
Sooz
- 11-Dec-18 @ 3:23 PM
Can anyone tell me of any ringcraft classes in Gwent or Monmouthshire please?
Newtonsgirl
- 22-Jul-18 @ 4:33 PM
Ringcraft classes in or around rossendale who will no about English bull terrier breed
Stan
- 26-Mar-18 @ 10:37 PM
Does anyone know if the Ringcraft classes are still held in Bromsgrove?? If so contact details...Many thanks
VivF
- 17-Nov-16 @ 5:22 PM
Is there a ring class near south Cambridge
Martin
- 8-Oct-16 @ 7:47 PM
Looking forring craft class near me airdrieand near will dothank you
Doggie wifee
- 12-Feb-16 @ 9:12 AM
Looking for ringcraft around Maidstone Kent. Any help much appreciated. Thanks.
Jan
- 10-Feb-16 @ 11:56 AM
Hallo just moved to Norfolk. East harling need a ringcraft club near me
gabby
- 21-Sep-15 @ 4:10 PM
Hi please could you tell me the nearest ring craft classes nr to Hawarden north wales or Chester please
bailey
- 11-Aug-15 @ 5:45 PM
Hi, I am looking for a ringcraft club North Tyneside/ Northumberland / Newcastle area. Thanks
JenJo
- 10-Apr-15 @ 9:09 PM
Hello, looking for ring craft in Northumberland/Newcastle area. Thank you.
Donna
- 6-Apr-15 @ 10:37 PM
i am looking for a ringcraft club near where i live...plymouth...i have a mini doxie and would like to show her..thankyou
pammie
- 22-Sep-14 @ 4:55 PM
I am looking for ring craft classes in southport and surrounding areas can anyone help please?
im looking for a ringcrqft class in or near high wycombe bucks thanks
alice
- 24-Jul-14 @ 4:45 PM
I live in Newcastle upon Tyne and am looking for a ringcraft nearby. I am hoping to show Norfolk Terriers Can you tell me if there any classes in this area? Thanks for your help Debbie
Debbie
- 7-Jul-14 @ 1:37 PM
I live in bradford on avon and would like to find the nearest ringcraft classes are
I live in north manchester can any tell me where my nearest ring craft is??? thank you
sweet-pete
- 12-Feb-14 @ 7:33 PM