What to Expect at a Dog Show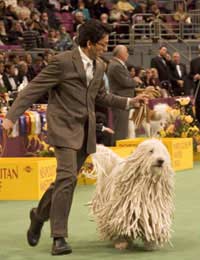 So it's finally here, the day of your very first dog show! It may be an Open Show close to home in which case you can leave home early in time to arrive at the venue as the show opens. Most shows open at least one hour before judging starts and if your breed is first in the ring and you have a puppy you wont have that long to get your bearings settle the dog and find the toilets! Perhaps leave a little earlier – just in case! You can afford to play with time once you know your way around.
Is Your Dog Ready to Show
Is your dog ready? I mean really ready? Is he free of knots; are his ears clean, nails trimmed, and teeth free of tartar? No? Then I suggest you get out your grooming tools and set to – no judge likes putting his hands on a dirty dog. You could have the best dog in the show but if it's dirty and smelly forget it – go to the end of the line madam!
Now how about you? Those jeans look a bit scruffy. What, it's only a dog show? Hmm you won't go far. A casual and scruffy appearance will not show off your dog and will give you the air of one that is not bothered. Come on, you paid a fortune for that show dog, you've trained it to within an inch of it's life, don't let him down on his first outing! Travel to the show in your casual clothes, you may have a long journey but when you arrive and the time draws near for your grand entrance into the ring go and change into something smarter. Many exhibitors do this and they choose something to complement the colour of their dogs. It's all part of the illusion.
Remember also ladies not to wear heels, not only are they noisy in the ring you may tread on your dog. Invest in some smart flat casual shoes – no dirty trainers – remember the judge will be looking at the ground a lot he doesn't want to see a pair of smelly, dirty trainers with the laces missing!
Dress to Impress
Gents, take that change and your keys out of your pockets – if you have to run your dog around the ring it will spill out and distract the dog. Buy a jacket (washable) and keep it for your dog showing. Many people wear the same outfit every time they show the same dog – it's not a fashion statement nor are they hard up – it's so they are recognised!
Arriving at the Show
Ok you have now arrived and both you and the dog are clean and presentable, first find somewhere to set up – at some venues you need to arrive really early, as space is at a premium. This is not a problem at Championship shows but Open Shows are a different matter. You may have a grooming table or a cage to set up, if not a rug on the ground will give you your own space in which to settle your dog. Ideally you will have someone with you in which case take the dog for a walk to settle him and hopefully he will get any 'little jobs' out of the way, rather than do them in the ring. Remember to have a bag with you to pick up after him.
Once back in your own space settle him down and buy yourself a coffee, on the way collect a catalogue – you may have prepaid this if not it will cost a couple of pounds. If you don't have a ring clip, purchase one from the trade stand – there's bound to be one. This will enable you to wear your personal ring number in the ring so the judge will know your entry number, and anyone watching will know who you are. On the wall usually near the secretary's table there will be a list showing the order of judging. You could have a while to wait!
Grooming Your Dog
Check your dog through – it's amazing how they can get dirty over night – just like children. If you have a long time to wait; sit and watch the judging, look around for other people in your breed, the catalogue will tell you if you if there are anymore entered and how many dogs are entered in your class. Get to know these dogs and their handlers the chances are you will be competing against them for the next few years!
Show Time
It's nearly time to go into the ring, perhaps now is a good time to check your dog doesn't want to have a wee. If he is a long coated breed you will by now have prepared his coat and put on your own special shoes and clothes. Don't get him ready too early otherwise you will get worried about messing up the coat and the dog will feel your nerves. If he's a bit spiky and won't settle remember the show is new to him as well. Take him for a walk around the venue, get him used to the other dogs and the strange smells. Don't get in anyone's way they may be ready for their class. But at all times keep an eye on the clock and another on the ring you are supposed to be judged in, you don't want to miss your class.
Listen up! The steward has just announced your class. Pick up that lead, best foot forward, good luck!
You might also like...
@Livy - I think in this case you might be better to email or call the show directly with your questions. I'm sure they will be very helpful, given it is your first time.
GreatDogs
- 6-May-15 @ 12:48 PM
Hi there, I thoroughly enjoyed reading this article, And it has helped us profusely, however I still have some questions. I show my horses at a competitive level, and in a couple of weeks will be competing at yet another show. There is a dog showing section at this show. I am not competing although I do have two delightful shich-tzus ( I'm not sure if thats how you spell it) however they are not comfortable in busy environments. My close friend Lauren is planning on showing her westie, but is concerned about and restrictions regarding clothing, for example, what exactly should she wear? And what colours? Her dog Mac is an excellent example of his breed and frankly very friendly. We were also curious as to what kind of coller/lead should be worn? Thank you for your help.
Livy
- 5-May-15 @ 7:55 PM