Points of a Dog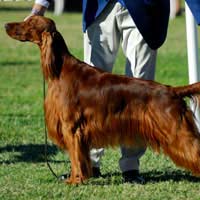 What are 'points of a dog?' Very simply it's a name for all the body parts of the dog so that we know what we are referring to. These words will also be used by a judge when he is writing a report (called a critique) of our dog if we a re lucky enough to win a place at a show. The judge has to write up these reports as part of his judging contract. These reports are printed in the weekly canine press.
Common Terms:
Here are a few of the most common terms used:
Withers:Top of the shoulders behind the neck.
Loin:Back of the dog between the ribs and the hips.
Croup:Top of the dogs rump between the loin and the tail.
Stifle:Located on the rear leg above the ankle – this is the dog's knee.
Forearm:Part of the foreleg between the elbow and the pastern.

Upper Arm:The top part of the front leg.
Pastern:Part of the leg below the front knee or below the hock of the rear leg.
Elbow:Knobbly part of the top of the front leg at the rear.
Brisket:The dogs chest.
Ribcage:The bones covering a dogs lungs.
Shoulder:Joint at the upper part of the foreleg.
Ear Set:The way the ear lays.
Occiput:A raised bone at the rear of the skull.
Stop:Indented part of the skull between the eyes.
Foreface:The head in front of the eyes.
Forefoot:Front feet.
Hindfoot:Rear feet.
Declaw:Small claw found above the other toes on the inner paw often removed.
Muzzle:Front part of the jaws.
Flews:Hanging part of the top lips.
Hock:Bones that form the ankle of the dog.
Hips:Joints at the uppermost part the hind legs.
The construction of each breed has differing requirements. Within each Breed Standard these differences will be defined by using some of the technical words listed above. When reading books about your chosen breed you will often find a diagram of the dog with the points of the dog marked. Your breeder will also refer to these points when explaining the good points of the puppy she is selling and how they have been inherited from its parents.
You might also like...