Companion Shows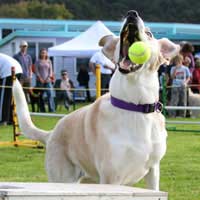 There are few places to practice ring craft skills apart from training classes. However nothing beats getting your dogs out into the fresh air and encountering a proper dog show. With the price of entering a dog show added to travelling costs these days we do not want to use them as the training ground for our new stars!
The ideal place to practice our new-found dog handling skills is at a Companion Dog Show. You do not have to enter in advance, just turn up on the day. If your bitch suddenly comes into season, there's a thunderstorm or your best dog drops his coat you haven't wasted your money, which would have been the case when entering Open and Championship Shows.
Who Can Enter?
Dogs that are registered with the Kennel Club can enter, but also dogs that are non-registered can enter, including cross breeds. There are pedigree classes, often judged by a well known show judge for the more serious show go-er, followed by the fun classes, called novelty classes, that may well have a celebrity judging.
Where to Find These Shows
Any organisation can run a Companion Show as long as they have a licence from the Kennel Club and public liability insurance for the event. The aim of a Companion Show is to raise money for charities. If a breed club organises a show they are allowed to keep a percentage of the money for club funds. Village fetes, hospitals and schools have all held these shows as a way to increase their funds and to entertain visitors. You will often find advertisements for these shows in local newspapers and signposted in the vicinity of the event. For a more comprehensive list take a look in the weekly dog press: Dogs World or Our Dog where many shows are listed. If the event is being organised by a breed club to which you are a member you will receive notification of the event.
Classes
With classes for puppies, Veterans (dogs over seven years of age) Terrier, Gundog, Working, Toy, Utility, Hunting and Pastoral breeds plus a general Open class. The winners of these classes will be called back into the ring to compete for Best in Show. Next follows the novelty classes that can be entered by any dog and are great fun to enter. With classes for the prettiest bitch, the most handsome dog, the dog the judge would most like to take home and the dog that looks like its owner, to name but a few!
Rescue Classes
There are normally classes specifically for re-homed and rescued dogs. To hear the life stories of these lovely dogs can bring a tear to the eye of even the hardest of judges. This is one class where every dog should win a prize!
Rosettes and Prizes
At a Companion Dog Show you can win the most fabulous rosettes and prizes. The organising committees pull out all the stops to ensure that all placed dogs take home sacks of dog food, chewy sticks and other dog goodies all donated by the major dog food companies and local companies. Rosettes are also bigger and brighter and handed out quite often to seventh place in each class. This is better than the large Championship shows where you leave the ring with just a place card unless you win best of breed.
Side Shows and Parking
Unlike larger shows with their designated parking areas you will find that at a Companion Show you will be able to park nearer the show ring. There is usually quite a party feeling with people bringing along picnics and chairs to sit in the sun and enjoy the day. Dogs can lie on their blankets around the ring, as there are no rules about benching and dog designated areas.With fundraising being the main issue of the day you will find generous raffles and side shows reminiscent of the fetes of yesteryear. There will be people cooking burgers and ice cream salesmen – who needs a visit to the seaside when you can spend the day at a doggy event?
The Companion Dog Shows are such enjoyable events no wonder some exhibitors prefer attending them rather than the larger more professional canine shows.
You might also like...