Stud Book Numbers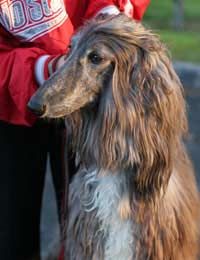 As soon as you enter the world of dog showing you will become aware of the words 'stud book.' The stud book will become an important part of your competition and with luck your own dog will one day have his own name in the Kennel Club's stud book.
What is it?
The stud book is a yearly publication from the Kennel Club that is revered by all those in the dog showing world. Within its pages are listed all championship shows from the previous year and the dogs that have achieved top honours at these shows. These books are kept and valued by exhibitors and breeders alike.
History of the Stud Book
The Victorian era saw an increase in the dog fancy. By 1870 it was decided that a controlling body be formed. In 1873 the Kennel Club was established. One of the first undertakings of the new Kennel club was to compile a stud book. The first edition included records of shows from 1859 – 1873. At this time there were no rules about names of dogs and so many Spots, Bobs and Rovers were listed it was decided that a registration system be introduced. Although to begin with many in the dog fraternity opposed this new system it is now universally acclaimed as the best dog registration system in the world. Kennel Clubs from many other countries have now adopted the UK system. Today when you read a copy of the stud book you will know that the name of the dogs entered therein have not been duplicated and can belong to only one owner.
How to Obtain a Stud Book Number
There are several ways that a dog may obtain his stud book number. By obtaining a Junior warrant, a reserve challenge certificate or a challenge certificate. Depending on the numerical numbers within your breed it is possible to gain a stud book number by being placed first, second or third in the Limit or Open class at Championship shows where challenge certificates are on offer. No dog may have more than one stud book number allocated to him.
Stud Book Bands
All breeds are placed into one of the five stud book bands. They are labelled A, B, C, D and E. Stud book band 'E' contains the breeds that are numerically high in registrations. Stud book band 'A' holds those breeds with the lowest registrations.It is these bands that determine how a dog qualifies for entry into the Stud book. The stud book bands are reviewed yearly.
How to Use the Stud Book
The yearly stud book should be referred to when breeding your dogs. It is hoped that no one would breed from a dog that has not been entered into the stud book.
What Honours Does a Stud Book Number Give a Dog?
Firstly it is an honour for a dog just to be entered into the stud book. An added bonus is that a dog never again needs to qualify for Crufts dog show, his stud book number is alone a good enough qualification to compete at this elite show.
You might also like...