The Stud Dog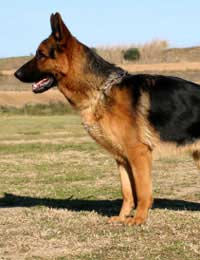 The stud dog is a very important part of a breeding programme. For most show enthusiasts with limited space it is wise to keep bitches and find a stud dog whenever a litter is planned.
What is a Stud Dog?
OK, a stud dog could be any intact dog of the same breed as the bitch. In reality it is a little more technical. A stud dog would have attained his stud-book number with the Kennel Club; this means he has won at a certain level and proved that he is a good example of his breed.
Do Your Homework
The stud dog's owner will provide a copy of the dog's pedigree – that is if he is agreeable to the mating. If you have never planned a mating before speak to other exhibitors that have produced litters and ask their advice, line breeding can be complicated and you really don't want to contemplate too close a breeding unless you know what you are doing. List your bitch's weaker points and try to improve upon these with the chosen stud dog.
Has He Been Used Before?
It is not necessarily a problem if the dog is a novice however, with your bitch being a maiden it will need two owners who know what they are doing otherwise it could take hours of standing around and coaxing. Both the dog and the bitch could be put off ever mating again.
An experienced handler with an experienced stud will be a great asset for your first attempt at mating. But NEVER force a bitch to mate – if she isn't ready try another day.
His Progeny (Offspring)
If you have admired a dog from the ringside and have studied his pedigree the next step would be to view some of his progeny (his offspring). Hopefully there will be some youngsters in the show ring and you will be able to watch them from the ringside and study their movement and over all conformation. Speak to their owners – even better the breeder and ask their advice.
Health Screening
Ensure that the stud dog you pick has all the health screening and certificates relevant to his breed. Also ensure that the stud dog does have all of his Kennel Club registration papers. If he is being show he should have – you cannot show a dog that is not registered with the Kennel Club.
Be Prepared to Travel
Never pick a dog because he plays with your bitch in the park and lives in the next street! You need to find the best stud dog possible even if this means driving the length of the country. After all you are breeding to improve the breed not just to make a quick few pounds!
Cost of Stud
This would never be less than the price of one puppy, usually more depending on the stud dog.
The Contract
There should be some form of contract stating what you are entitled to for your money. You are usually expected to pay for the service of the stud dog once he has performed. You are not paying for the supply of puppies – if none arrive or the bitch loses them you are still liable for the fee in full. However some stud dog owners will offer another mating at the bitches next season.
Owning a Stud Dog
It may be that you own a dog and would like a puppy 'just like him.' Unfortunately dog owners do not go to the bitch owners and ask for a mating. Instead keep your dog in good health, enter him in as many shows as possible and if he gains admirers he may one day be asked to provide a very important service.
You might also like...