How DNA Profiling Can Help Puppies and Dog Owners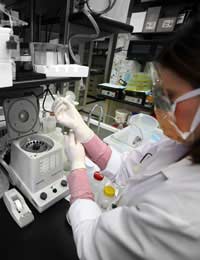 DNA profiling is now available to dogs owners just as it is for human beings. We will be able to identify parentage of puppies and also use profiling to look for markers that indicate diseases within the breeds.
WHAT IS DNA?
DNA is found in the cells of every living thing including humans. Every man, beast or bird has a different genetic make-up thus identifying them for life and even in death as the DNA never changes. It is individual to that person or animal and cannot be changed. Whether samples are taken from hair, skin or bodily fluids it will contain the same DNA.The biological parents of the dog will make up the genetic profile of the puppy as its make-up comes only from its parents. If there was a parentage dispute with a puppy a test would show if the puppy's named parents were indeed true or dogs had been switched.
Why Should we DNA Profile Our Dogs?
By DNA profiling our dogs we have identified them for life. If they are lost or stolen at any time or ownership is questioned a simple swab test will reveal their identity and save a lot of heartbreak. A DNA test can prove any health testing done on a dog and dispel any use of other dogs to falsify records.You will be able to find the true sire of any dog at any time which in dog breeding is a great aid. The DNA test on any dogs you breed will confirm the pedigree of the dog and validate you as a good breeder.
How Do We DNA Profile Our Dogs?
To take a DNA profile from of dog is very simple. A profiling kit can be purchased from the Kennel Club for £25. With the small brush provided you simply rub the inside of the dog's cheek which will pick up sample cells. It is then sealed in a packet provided and is sent to a laboratory for processing. When the sample has been processed you will receive a certificate showing the DNA profiling and the details will be added to the dogs Kennel Club registration documents. It will stay on the Kennel Club database indefinitely. Cells can also be taken from a blood sample but as this would mean a visit to a vet the cheek swab is easier for the individual dog owner and also not so costly.
Diseases
DNA profiling does not show up diseases in the dog. DNA profiling for individual diseases within the breed are done separately. It may be possible in the future to incorporate DNA profiling for identity along with looking for disease markers.
Parentage Analysis
The Kennel Club Health and Breeder Service are also able to provide a parentage analysis service and the pack is available from them again for the cost of £25 if all dogs in question have been DNA profiled.
The Future
Hopefully the future of dogs in the UK will mean that all puppies will be DNA profiled at the time they are registered with the Kennel Club. Already many breeders are supplying this useful service when they breed puppies which mean that prospective owners will have positive proof that the registered parents are indeed the true parents. If this was to be law for all dog, pedigree and otherwise it would seriously affect the puppy farming trade and make dog breeding above board once and for all.
You might also like...