Breeding Your Own Dogs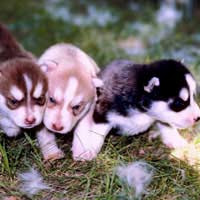 There comes a time in every exhibitors show career when they consider breeding their own line to show, rather than exhibit other breeders stock. To breed a litter of puppies takes a commitment not only in your own busy life but also as to whether you are doing it to promote your breed.
It may be worth considering a few points:
Do you see pound signs whenever you think of puppies? It cannot be argued that the price of a good pedigree puppy can reach as much as £1,000. If you have a litter of eight or nine puppies it doesn't take a mathematician to see that you can have a reasonable income from breeding several times each year.
Talking of money, are you prepared to spend money to ensure your breeding stock is healthy? If there are difficulties during the whelping period will you be able to afford the veterinary bills? A breeding bitch needs the best food available, can you afford this or will you throw down the same supermarket cheap brand that you've always used?
Health Checks
What health checks are pertinent to your breed? There are many people ready to 'knock' dog breeders so don't let the side down by breeding from inferior or unchecked dogs. The press is ready to lambaste breeders for breeding what is thought of as 'freaks of nature' so don't play into their hands. Every breed club can advise on what health checks are needed for your breed. It could be a yearly eye test, perhaps a hip x-ray and score at twelve months of age. Some breeds already keep a DNA register or closely monitor other possible problems in the breed. These schemes are not followed because the breed is unhealthy; they are done to keep the breed healthy. A true breeder will abide by the results and decide whether to breed or not when they are aware of all the health checks and how their breeding stock measure up to it.
Do You Have What it Takes
Do you have the strength of character to decide not to breed from your bitch because she has a bad hip score or carries a fault? If you have this strength you are a true 'dog person' and are thinking of the future of your breed and not of earning a quick buck. Continue to breed with defective stock or to line your own pocket and you quickly earn the reputation as a 'back street breeder' – not the sort of person we in the dog game want to associate with!
Kennel Club Accredited Breeder Scheme
To promote the better breeders, the Kennel Club has formed an accredited breeder scheme. Any person wishing to breed their dog can join this scheme. They must agree to follow strict guidelines and in return the Kennel club will promote them above other breeders that are not in the scheme.
Show Dog
It is always best to have shown your dog and be able to prove that the dog measures up against others in the breed by the number of rosettes and place cards that you win. If you can be placed in your breed and be able to win successfully enough to be awarded a studbook number, all the better. This is proof that your dog, or bitch, is thought of by the judges as a good example of your breed. If your dog, or bitch, is regularly thrown out of its class then perhaps it is not really good enough to breed from. There again you could have average success and find a good stud dog to use that will hopefully pass on his good points to his progeny.
If you are new to breeding it may be advisable to attend a few breed club and general canine seminars that include breeding on their agenda. Speak to your own dog's breeder; after all you must have been impressed with their stock as you wish to breed from it yourself.
Selling Your Puppies
How are you going to sell your puppies? Forget about free ads, local papers and the Internet as they just attract people who want a cheap puppy and possibly want to earn money by breeding themselves. If you are a member of a breed club you will be entitled to go onto their puppy lists, better still join the Kennel Club Accredited Breeder Scheme and sell with the elite in the show world.
Finally, don't forget to check out every prospective buyer – remember how you were questioned when you first looked for a good puppy? Follow by example and don't let your carefully nurtured babies fall into the wrong hands.
You might also like...