What to do if Your Dog Won't Show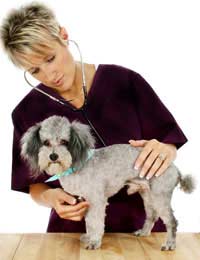 So you've started showing your dog, you are both doing well and then comes the day when he doesn't want to show. He could be shying away from the judge, become a bag of nerves or just lose that shine that he used to have on entering the show ring. Some dogs do have problems in the ring and quite often they can be overcome.
Veterinary help
Most importantly check your dog's health with your vet. Nothing is more important than your pets health, showing comes second to his wellbeing. Once you are happy that he is healthy then you can start to concentrate on other possibilities.
Heat and travel
Could your dog have become upset by the journey to the show? Perhaps he is getting too warm in the car or is not used to travelling long distances. Go back to basics and take him out on short journeys to get him accustomed to car journeys. Stop for breaks during the journey to the show and make sure he is comfortable throughout the journey. Allow time upon arrival at the show for him to have a run and calm down in a cool place. Show dogs are no different to other dogs and cannot be expected to perform just because you have paid an entry fee for a dog show.
Food
Have you changed your dog's food lately? This could be a reason he is not looking his best. If you find a food that suits your dog then stick to it don't keep fooling about with trendy diets and new products. Never feed a dog before a car journey. If it is to be a long day take some food with you and feed the dog gradually throughout the day and avoid a giving him a big meal. How would you feel if you had a belly full of breakfast, a long car journey then were expected to prance round the show ring?
Season
Could your dog be coming into season for the first time? This can make a bitch go off colour for a few weeks. Or, has your young dog discovered girl dogs for the first time – that would most definitely take his mind off showing. Keep your bitch away from the dog show while she is in season it is not fair to her or the male dogs that are distracted by the scent of a bitch in season. You boy is going to have to learn to ignore strange smells in the show ring. One way to do this is to dab a little of your perfume (or aftershave) onto the dogs chest. This will disguise other scents and your dog will only be able to smell you.
Fright
Has your dog had a fright in the show ring? Perhaps the judge was a little rough or perhaps your dog is not used to men. If you feel this is the reason then you must get him used to hats, men or whatever is bothering him by introducing him to these things so often in his everyday life that there is no longer a threat in the ring.
Treats
Carry a few treats with you when in the ring and reward your dog when he performs well. Be careful that this does not upset other dogs in the ring as this is not good showmanship.
Take a break
If all else fails take a break from the show ring and take up a new hobby with your dog to distract him from his problems in the show ring. Try obedience or fly ball or just enjoy long walks and the company of your dog.
Start again
When you feel the time is right join a new ring craft class – this way the dog will not associate the class with a dog show. The first show you enter should be at a new show ground so again the dog has no bad memories. Gradually build up your dog's confidence. If you still have problems it may be that you are the problem and you are transmitting your nerves or stress down the lead to your dog. Try him with a new handler and if he is still unhappy then perhaps it's time to call it a day and take up a new hobby with your dog.
You might also like...