Considerations When Rescuing a Dog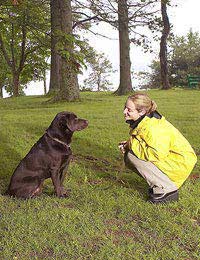 Within every breed there are times when dogs need re-homing and help. For many dogs it may be that they just need a new home due to their owners' marital break up, a house move or that they are no longer wanted due to a baby in the home. Who better to find 'forever homes' for these dogs than the breed clubs run by people who genuinely love the breed?
The Right Home
Breed rescue is more in tune with the breed they represent and can find the right sort of homes for the dogs. They will vet any person wanting a 'rescue dog'.
National Rescue Associations
There's nothing wrong with buying a dog from one of the national rescue centres – yes they do tend to charge a lot of money. However only people that really know a breed can assess and re-home a dog properly.
Education
A breed rescue organisation will put the new owner in touch with a local club so that the owner and dog can become part of their breed's community and join in with educational and fun events.
Keeping in Touch
A good breed rescue not only expects the new owners to keep in touch with the rescue centre but to let them know if they can no longer keep the dog themselves.
Old and Infirm Dogs
Breed rescues will not euthanise a dog that is blind, deaf or unable to be re-homed. More than likely it will be allowed to live its life out within the rescue kennels or found a foster home with one of the helpers.
Dangerous Dogs
Even the most caring of breed rescue workers will not send a dangerous dog to a new home. Sometimes a dog has been labelled wrongly and is not exactly dangerous but needs training and special care. Once this has been successful the dog can be matched with a family that perhaps does not have small children or other animals. No rescue organisation would knowingly re-home a dog that has bitten or attacked, sadly these dogs will be put to sleep.
Events
Quite often there will be events organised by the breed rescue whereby re-homed dogs will visit to centre with their new owners for fun days and other social events. This is a way for the helpers to see how the dogs they saved are progressing and for fellow lovers of the breed to get together and share reminiscences.
Fundraising
Breed Rescues all depend upon the charity of others to continue their good work. They do not get government or local council funding, but rely solely on the generosity of people that love that particular breed. Breed clubs will organise raffles and fun events for members with the intention of raising funds for their rescue organisation. Please try and give as much as possible to the events as without the money, no breed rescue can survive, they rely on the donations and good wishes of all in the breed.
Support
There are many ways to support your breed rescue. Apart from supporting events already mentioned, you may be able to be part of the countrywide network that can help transport unwanted dogs across country to the kennel. You may be able to help by acting as a telephone contact or perhaps give a foster home if the kennel is full.
How about remembering your breed rescue at Christmas time? A five pound note in a card would be very welcome at a time when many dogs are being dumped and kennels need heating.
How about your will? You may have made provision for bequests to large charities and family members, but what about something for the breed that kept you company during your lifetime - remember every penny counts.
Every breed however large or small relies on its rescue network, with your support it can continue its good work saving and re-homing the breed that you love.
You might also like...