What Class Should I Enter My Dog For?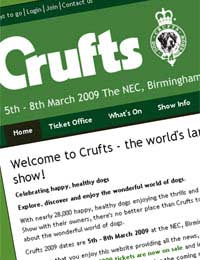 Q.
My dog has won a Cruft nomination in "junior class" at Katowice Dog Show, this was when he was 12 months old but at the time of showing in March he'll be 25 months old. Which class should I choose for him at Crufts 2009?
(Mr Maciej Babinski, 23 January 2009)
A.
Congratulations on qualifying your dog for Crufts, this is a great achievement and you are greatly honoured to be representing your breed and country at the Greatest Dog Show in the World!
Show Schedule
When the show schedules are released in the autumn both in paper form and online you will find that the class categories are listed for each breed. There should be classes for each sex of dog within the breed as well. There is a wealth of information within the schedule but it can be rather daunting when you are entering for the first time. You will see a list of class definitions near the beginining of the schedule but if this is too confusing telephone your own kennel club for advice as they will be able to help you.
Age classes
As you are aware, there are classes for younger dogs such as:
Puppy: six to twelve months on the first day of the show.
Junior: six to eighteen months on the first day of the show,
Yearling: Six to twenty four months on the first day of the show,
After this you will go into a class that depends on how many wins your dog has achieved since leaving the aged classes. As he is just 25 months we should assume that he has not won many classes yet and can enter the Post Graduate class or the Limit class if they are scheduled for your breed.
Champion
If your dog has won any awards towards being a champion he may not be able to enter the Post Graduate class. In the UK this would include a challenge certificate, in which case enter him straight into the Limit Class.
Open Class
If you are in any doubt about your wins and the class to enter put your dog into the Open class as he is able to enter this class at any point in his show career. But be warned he will be up against the best of the breed in this class including the latest top champions.
Banned
If it is found that you have won a class that you should not have entered your award will be removed from your dog after the show. It has been well documented about certain dogs winning not only Best of Breed but also a group placing and then losing it as the owner put them into the wrong class at the show.
Close of Entry
Make a note of the last day to enter the show and do not miss this. The Kennel Club, who organise Crufts, are very strict on late entries and it would be a shame if after all your efforts to qualify you were to miss the show.
Daunting
These rules may seem rather daunting but once you have checked you are in the right class and the entry has been sent you can look forward to your trip to England and to Crufts. Good luck!
You might also like...
I live in France and will be showing my puppy, who is registered in France and has an ATC, at a championship show in the UK. If she wins a 1st, 2nd or 3rd prize will this qualify her for Crufts, or does she have to qualify at a designated show in France?
Cacique
- 19-Aug-13 @ 10:52 AM