When is the Best Time to Breed Your Dog?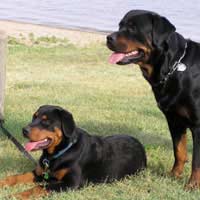 So you've decided to breed from your bitch, there are still some points to consider.
How old is your dog? How many seasons has she had? She may be too young; on the other hand she could be too old. Normally a bitch is not bred until she has had three seasons or has reached the age of two years. If you have an older bitch it is not always advisable for her to have a litter later in life. The Kennel Club will not accept a registration of a litter if the bitch is over the age of eight years unless there is a valid reason i.e. the gene pool of that breed is extremely small or the bitch has had previous problems conceiving. In these circumstances it is advisable to speak to Kennel Club staff before progressing with the mating.
Show Career
If you are actively showing your bitch she could lose around six months of her show career during her maternity duties. It's never advisable to take her to a show once she has been mated, the risk of infection is too great. One of the biggest taboos of showing is to even contemplate taking a bitch to a show while she is in season. With hundreds of stud dogs in the vicinity it would cause too much upset and distraction for many owners who have paid a lot of money to exhibit their dogs.
Coat and Fitness
A bitches coat will take a lot of wear and tear during her maternity duties and depending on the breed it could be a while before she is in tip top condition and ready to show. Some bitches never return to the ring. A bitch that is mated around the age of two years has time to produce a litter and continue showing in the senior classes.
Young Bitch
A bitch is rather like a young woman giving birth for the first time. She is fitter and healthier than an older mother. The birth will be easier and she will be able to cope with the demands of her young puppies. It is possible that an older bitch will resent the litter and their family's interest in it after being 'their' dog for so long.
Timing and Planning
You must plan your time to fit around this important event. Apart from the nine week gestation period you will be very busy in the following eight weeks while the puppies are young. Your time will also be spent interviewing prospective owners and caring for the bitch. Remember also that you may not sell all of the puppies as quickly as you had hoped and may need to care from them longer than expected.
Family Commitment
The whole family will have their lives disrupted while there are puppies in the home. The lack of family holidays during this period may be a problem. Visitors must be kept at a minimum in the first days in case infection is introduced – the bitch will also not be receptive to too much interference.
Time of Year
Puppies born in the spring and summer are so much easier to look after. You do not have to worry about the temperature in the whelping room and the little puppies can romp in the garden when they are old enough to go outside.
You might also like...