How Can My Dog Compete?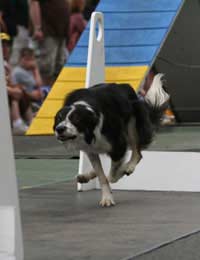 Unfortunately not every dog can compete at Crufts Dog Show. Unlike all other Championship Dog Shows in the United Kingdom Crufts is the one show where all entrants will have to qualify in the preceding year. In certain circumstances dogs can qualify for life.
Entries For Crufts
Entries for each Crufts dog show are compiled in exactly the same way as other dog shows. Schedules are sent out in the post or can be downloaded online from the
Kennel Club website
. The entry form has room for more details as the exhibitor has to declare at what show each of the entered dogs qualified.
Keep Records
It is imperative that you keep precise records of your dog's wins. Not only is this necessary in order to check that they have not won their way out of classes – enter the wrong class and you could have any wins disqualified but for Crufts you have to state what Championship show and in which class he qualified.
Qualifications For Entering Crufts
Each year the Kennel Club will announce what qualification is required for a dog to enter Crufts for the following year. This information will be released to the general canine publications listed in the Kennel Gazette and also put onto their own website. At first glance there seem to be a vast array of conditions depending on your breed and also if your dog is registered in the UK or is visiting from overseas.
Challenge Certificates
If the breed to which your dog belongs is issued with challenge certificates you can only qualify at Championship shows where CC's are on offer. The classes can differ depending on which stud book band your dog's breed is listed in, but the usual classes are: Minor Puppy, Puppy, Junior, Post Graduate, Limit and Open.
General or Group Open Shows
In order to encourage exhibitors to support General Open Shows the Kennel Club has introduced a qualification for Crufts from these shows. However you will have to have won a Best in Show, Best Puppy in Show or Reserve Best in Show award in order to take advantage - quite honestly dogs of the calibre that win Best in Show will most certainly have qualified in the usual way and this seems to be a shallow offer. Very few exhibitors only attend Open Shows!
Premier Dog Shows
These are the new 'special' Open Shows honoured by the Kennel Club. Dogs can win here from their breed classes by winning Best of Breed as long as there are more than three (or more than five for stud band E) classes scheduled for the breed.
Puppies and Qualification
If a very young puppy should qualify for Crufts at the end of the year it may be too young to attend Crufts. The Kennel Club then allow the owner of the puppy to carry the qualification over to the following year.
Crufts Wins - Automatic Qualification
If a dog should win its class at the preceding years show, not only is this a great honour, but it automatically qualifies for the following years show.
Champions, Show Champions, Agility Champions, Field Trial, Working Trial or Obedience Champion all qualify for Crufts for life.
Once a dog has won its way into the Stud Book – this is done by winning certain classes or certificates – it has also qualified for Crufts for life.
Veteran Dogs
There are classes in each breed for veterans – dogs over seven years of age. These classes are well supported and loved by the onlookers as older, well-known dogs in each breed can once again have their time in the limelight. To see a favourite old timer can bring a lump to the throat of even the most hardened campaigner!
Overseas Entries
Since the introduction of the pets' passport, many dogs from overseas can now compete at Crufts and other UK dog shows. They must have registered for this privilege and have an ATC (authority to compete) number that is shown on the entry and in the catalogue. The requirements for qualification vary from country to country so exhibitors should study the Kennel Club requirements very closely.
Other Qualifications
Agility, Obedience, Field Trials, Working Trials and Working Gundogs also have their own qualifications that can be read online on at the Kennel Club website.
It may seem a minefield in order to enter Crufts, however once that envelope has been posted the countdown begins to the dog world's own special piece of magic that only Crufts can conjure up!
You might also like...
I am in southern Ireland if i won't to compete at crufts how do /and what do i need to qualify Thank you
Morgan
- 20-May-18 @ 6:24 PM
Can a dog get in to crufts if it comes 1st-3rd in a novice class at a champ show
Leebo
- 5-Apr-17 @ 9:51 PM