The Importance of Training for Shows: A Case Study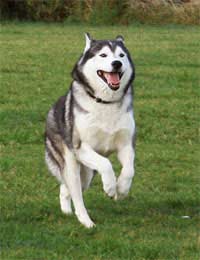 Tracie and Andrew were excited about their new Siberian Husky puppy, Echo. They had carefully done their research and purchased Echo from an experienced and reputable breeder, who was also the owner of several show champions and they were sure that with his illustrious pedigree, they would have great success with Echo in the show ring.
They spent the first few months happily playing with the new addition to their family and although they were a little alarmed by his increasingly naughty behaviour, they were confident that with his beautiful eyes and stunning coat, Echo would wow all the judges at his first show.
A Disastrous Debut
When Echo was 6 months, Tracie and Andrew heard about a show at their local breed club and eagerly took Echo along to take part. However, things went badly from the moment they arrived – Echo burst out of the car and ran madly around the show grounds, harassing the other dogs and annoying people. Although Tracie finally managed to catch Echo and put him on his leash, she could barely control him as he towed her around the place.
They finally made it into the ring but Echo refused to stand and it took all of Tracie's strength to prevent him from jumping on the other dogs. When the judge came over, however, Echo's confident demeanour suddenly disappeared and he cowered away as the judge tried to examine him and run his hands over him. Finally, they were sent from the ring in disgrace.
"I was in tears," Tracie remembers. "I kept wondering how we were ever going to have a show champion with Echo behaving like this - where had we gone wrong?"
Some Timely Advice
A kindly old breeder came up to Tracie and Andrew as they were loading Echo back into their car and asked if they had done any show training with their dog. "I was really surprised" says Tracie. "We were not planning to do Obedience or anything like that with Echo so I didn't think we'd need to do any training. After all, Echo comes from a long line of champions so shouldn't he just show and win naturally?"
But the old breeder patiently explained that show training is very important – and that just because a puppy has a long pedigree and Tracie paid a lot of money for him did not mean that he would automatically show well and win ribbons! Showing is all about presenting the dog in the best light and as the best example of his breed, in order to impress the judges – so the dog needs to walk well, stand well and allow the judge to handle him.
Training For Show
The breeder explained that show training was not hard – it was just a matter of doing a little bit every day: "For example, spend a few minutes a day with him teaching him to stand, using a hand under his tummy to keep him square and your other hand under his chin. If you do a bit every day, he will get used to it. Praise and reward him a lot when he does it right. You should also teach your pup to allow strangers to run their hands over him because this is what is going to happen when you take him into the ring and judges come up to examine him. So ask friends to help you – get them to feel your dog all over and look at his ears, eyes and even his mouth. In Echo's case, because he is a male dog, you will also have to get him used to having his testicles examined. Finally, it's really important that you teach your dog to walk and run nicely next to you on a loose lead because this is one of the most important parts of your time in the ring – the judge will be looking only at you and you will have a great chance to show your dog off, if he moves nicely."
Tracie was surprised to realise that there was so much involved in preparing a dog for shows and she was worried that at 6 months old, it was too late to change Echo's behaviour. But the old breeder assured them that Echo was still a puppy and very receptive to training.
"He explained to us that if we started immediately, we could make a lot of positive changes," remembers Tracie. "Also, he advised us to get in touch with our breeders. We hadn't really contacted her at all since picking up Echo! He said she would probably be happy to help us with advice for ring practice."
Starting Again…
On the old breeder's advice, Tracie also got in touch with her local breed club and obtained the details of ring craft classes in her area. They quickly enrolled Echo in a class and there, they were able to practise all the things they needed to do in the ring – and also met other people who were starting out in showing, like themselves.
"I also went and attended some dog shows without Echo," recalls Tracie, "- so I could watch and learn from the more experienced exhibitors. It made a huge difference to know what was actually expected of the dog and of me, in the ring."
While they continued to have playtimes with Echo, Tracie and Andrew also diligently practised show training with Echo every day, teaching him to stand, walk nicely and allow strangers to handle him. They got him used to the show collar and lead and also to standing nicely and being brushed, as this was something that they would need to do in the ring. A few months later, they were delighted to come home from a general open show with a rosette showing that Echo had won the Best Puppy in his group!
You might also like...