What to Take to an Overseas Dog Show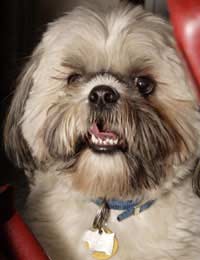 When travelling to a dog show with your dog you could be hundred of miles from home. It may not be convenient to shop enroute so it is imperative that you have everything with you for your dogs' comfort and for any little emergency that may occur.
A dog can cook in a hot car. Every year we read of people being prosecuted and more importantly dogs being killed because the owners do not realise how hot a car can become. Take precautions before setting out and your dog will have a comfortable journey.
Travelling in a Car
Many cars do not have air conditioning but there are some gadgets that can be purchased for a mere few pounds that will make life more comfortable in the car. Expandable grids can be fitted into the window which will give some access to airflow when the car is moving. However, do not rely on these items for cool air when the car is parked.
A new gadget on the market is the solar powered fan. This is fitted in the gap of an open window and the solar panel generates a fan inside the car. For less than twenty pounds these items are a boon for the dog owner.
Cars can get very hot even when parked in the shade. Invest in a 'space blanket' that can be thrown over the windscreen of the car. This will keep the car cooler during the height of the day ready for your return.
Make Sure You Have Water
And lots of it! The likelihood of you being stuck in a traffic jam at the height of the day is very high. It may not be possible to leave the car and your dog can get distressed. Always carry several containers of water in your car these can be used by passengers and dogs. A good tip is to fill empty pop bottles, within two inches of the top of the bottle, with water and put them in the freezer the night before you travel. Kept in a cool bag these will slowly defrost during the day.
If your dog should become overheated you need to get him to a vet quickly. It is vital to get his body temperature down but do not let him drink a lot of water as bloat (torsion) can occur which will kill the dog. Soak towels and blankets with water and cover the dog – do not use iced water, as it will shock the dog. Keep the dog in the shade as much as possible.
Essentail Items
Spare blankets and towels are always useful. For many reasons your dog can get wet or dirty and need cleaning. If there is an accident or the weather turns very cold both you and your dog have use of the blankets.
A small first aid box should be kept in the car. Canine first aid boxes can be purchased at most good pet stores. All dog show schedules have to list a veterinary surgery that is on call during the show. The larger championship shows do have a resident vet at the showground. If you are in the vicinity of the show and your dog is taken ill use this telephone number to summon help.Ensure your telephone is fully charged in case of breakdown or emergency.
There may be a hold up in your journey so always carry food both for yourself and your dog. You may be able to pull into a service station for a burger but it's even less healthy for your dog!
Remember to pack your grooming bag for the show; you'd be surprised how many exhibitors forget it!
With a little planning, your journey to a dog show can be a pleasant experience if you are prepared for any eventuality.
You might also like...