What Equipment to Take to a Show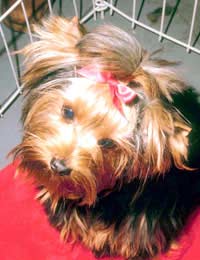 You need to be ready for any situation when attending a dog show. Remember you may have to carry everything across large show grounds before you reach your ring or benching area so only take what you need.
Grooming Table
Most breeds need a grooming table. It is advisable to pay a little more and purchase one that folds down to a trolley this then becomes the means by which you carry your equipment and possibly dog in cage (for smaller dogs) across the showground to the car park.Cages and trolley tables are essential pieces of equipment. Croft is an excellent manufacturer and supplies equipment to the Kennel Club for Crufts dog show.
Bench Blanket or Rug
A rug for the ground or a blanket for the dog's bench is always needed. Use a piece of fleece, which will wash and dry easily.
Leads and Chains
Apart from the collar and lead your dog is wearing to travel to the show you will require a show lead and a chain to tether him to his bench.
Grooming Equipment
A brush and comb are essential, as are scissors and wipes in case of last minute 'touch ups.' But please remember you are not supposed to trim within the confines of the show venue.
Water and Bowl
A small bowl for water and a bottle of water – just in case it's needed and you aren't near a supply at the show. You can purchase travel bowls that have a lip around the rim that prevents the water from spilling.
Towel and Soap
Wet wipes are handy for the dog owner, as is a roll of kitchen paper – you'd be surprised how mucky you can get – especially handy on a muddy day! Towels are handy for mucky faces and there are plenty of brands of 'no water' cleaning fluid in case the dog has an accident. Just tip a small amount of the fluid onto the coat, rub it in and dry with a towel.Some breeds carry whitening powder – this is not to be left in the coat, it is used more to dry out a wet face or behind and is brushed out.
A good tip is to purchase cornflour or potato flour from a health food shop. Both are very cheap and very absorbent
Wet Weather
Wellington boots are a godsend for exhibitors; they can be left in the car ready for use. A good waterproof jacket doesn't go amiss either. Golf umbrellas are ideal for the wet as well as hot weather. Set up next to a grooming table they can keep dog and owner cool. You can buy rainwear for dogs as well as boots. Pulled on in the car the dog can reach his benching area or venue without getting soaked to the skin. Some are even made to measure so the dog doesn't walk out of them!
Passes
Whatever you do don't forget to carry any passes that are sent to you – without them you may not gain entry to the show. These are not normally sent for open shows but you will always receive passes for general championship shows. If they haven't arrived one week before the show telephone the secretary.
Food
It can be very expensive to buy food at the bigger dog shows so go prepared. Club shows are very different with committee members usually putting on a good spread and normally at a good price. Remember that you may have a long journey home and in very cold weather so a flask is an essential item in your show bag.
Ask Fellow Exhibitors
Chat to your breeder and fellow exhibitors in your own breed they will advise you what you need to carry, after a few shows you will be prepared for all eventualities.
You might also like...
Hi there I am hoping that you can help me as I am a bit of a novice but am very keen to learn more. I have an 8 month old Yorkshire Terrier which I would like to start showing, I have been told that I will need a red box for her to stand on yet I cannot seem to find any anywhere, is there a special given name for this item and do you know where I can purchase one from. Kind regards Michelle
shell
- 13-Sep-11 @ 5:36 PM