Dog Breeders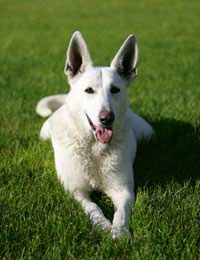 A breeder is the person who sells your dog to you. They would have mated their bitch to the correct stud dog and have a proper breeding plan that will improve the breed. They do not breed for the sake of the money! Yes puppies can sell for as much as £1,000 each but the years of health care and work put into producing the right type of puppy does not make dog breeding a viable get rich quick scheme for the honest dog breeder.
The people who make money are the puppy farmers and the back street breeders who do not care for the breed or the bitches who churn out the puppies.
What Does a Breeder Supply?
Yes they supply the puppy but once you purchase your puppy a good breeder does not turn their back on the owner. You would have met the breeder several times before taking home your puppy. The breeder will supply you with samples of food, bedding and a long list of instructions on 'how to run' your puppy. They are also on the end of the telephone so that you can make all those calls that frighten new owners. They also want to know how their progeny is growing and to see photographs of the puppy in its new home.
The Breeder of a Show Puppy
When a novice owner buys a puppy with the intention of entering it at dog shows the breeder will take you through every process. From finding a good training class, feeding and exercising in order to have the correct weight and muscle tone and grooming so that the coat is correct for that first important show.
Kennel Name
You will also be entering a show using your dogs registered name. This will carry the Kennel club affix (registered kennel name) of your breeder. Your breeder would have worked for many years building a good reputation for her name and by exhibiting your puppy with this name you will be continuing the tradition of good sportsmanship for your breeder.
The First Show
A good breeder will not only advice the novice exhibitor on what shows to enter but will tell them which judge prefers their type of dog and what classes to enter. Many breeders will also attend the show for last minute grooming tips and will not only support the nervous handler but also will take the dog into the ring and exhibit it themselves if the nerves are too bad on the day. It may be that the new owner cannot show the dog themselves due to age or disability in which case the breeder will be there to help.
A Friend for Life
Speak to many people around the show ring who will tell you that they have made life long friends with the breeder of their first dog. Dog showing will take over your life and before long you will have a new band of friends all with the same interest - the love of your breed.
Your breeder will become a reliable friend who will guide you through the pitfalls of showing your dogs and advise you on all aspects of owning your chosen breed.
GREAT DOGS IS FOR SALE.
This website is for sale [more info].
You might also like...
If you're looking for a puppy you need to be aware of the puppy mills out there, where pups are often kept in appalling conditions. A good breeder will take fanatical care of their animals and make sure they go to good homes where people will keep the dogs well - that way they won't be returned after a couple of weeks! A good breeder specialises in a single breed and knows them well, all the good and bad points and is happy to share information and tips.
Cathy
- 2-Jul-12 @ 10:38 AM